Kylee

&

Courtney
Back by popular demand: Our beauty picks under $5 this month.
Ok, ok, sorry for the repeat, but my next new makeup love is another eyeliner. This time I bought it on a whim because it was, after all, $0.99. It's Wet n' Wild's Kohl Liner Pencil in Brandy Wine. And before you roll your eyes, yes I know Wet n' Wild may feel like a middle school brand to some. But I'm telling you, this eyeliner lasts. Not only does it easily last my whole work day, it also is soft to apply. I've had some harsh feeling eye pencils that feel like your scraping your eyelids before and this is not one of them. It's available in 8 or so colors, including more fun colors like the Brandy one I bought.
What Kylee loves:
It's so cheap. This is one impulse buy you don't have to feel guilty about because like it or not, it's only 99 cents!

Fun colors! It's available in a huge variety of colors – from neutrals like blacks and browns, to more fun colors like blue and red.

Super pigmented. I was seriously impressed by the amount of pigment that came off with one swipe across my lids.
What Kylee hates:
Not all the colors are

available

online. For example, instead of buying my color online, I had to go to a CVS to find the more bright colors.

It's bulky. Yes, it's pencil thin, but it is LONG and has no retractable capabilities. So make sure you have room in your makeup bag or drawer before buying.
So I'm bending the rules a little and talking about one of my favorite hair products under $10. It's awesome and super inexpensive. I'm totally grooving on Hask Keratin Smoothing Shine Oil available at Target. It's under two bucks for a tube that lasts about two months. I use it on my hair before I blow dry it. It does an outstanding job of fighting the frizz. My hairdresser sells a similar product for $18 that lasts about 4 months. The Hask oil works just as well at a fraction of the cost. I love it when I find an effective product that's priced right!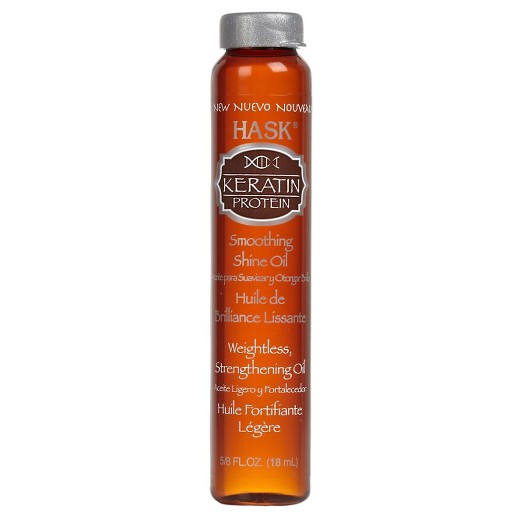 What Courtney loves:
It's cheap and actually works!!!!!

The container is small and fits well in my quart sized plastic bag when traveling.

The oil has a faint, pleasant scent. I love things that smell good.

There are several different versions/formulas of Hask hair oil. The Keratin one works well for me.
What Courtney hates:
The cap on the container can be hard to deal with but that's the only complaint I have.